Other coins from this collection
Other coins from East Caribbean St.
This coin is not for sale or trade
Added on: 03-Jun-2007
OBVERSE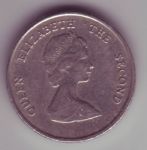 REVERSE
Description:
East Caribbean States - 25c - 2000 Later version with slightly different reverse. 2000 & still the Type 2 head remains, the Type 4 head is now in use!
Caribbean
VF (Very Fine)
2000